All of Mel's online purchases (CD's as well as MP3s) are being handled through:
Just click on the particular icon of your choosing. next to the album you're seeking below for direct access to the correct site listing Mel's music. Samples of all his songs are available at each of these sites as well as on the
page here on Mel's website.
Recent Overseas Radio Comments
"We really enjoy Mel's sound and consider it a real pleasure to present his music here'- Radio Avesta,103.5FM, Sweden
"I've heard Mel through Hillcrest Music in Canada and he sounds great. I will he playing his music on our radio station "- Ales Pijnen, Zuidwest FM.nl, Netherlands
"Every track we've listened to here is a gem. Mel's voice reminds me of Elvis The King. I will even say that he sounds better. We will be playing all of his tracks here on River Country." - Fred Paul, Riverside Country Radio, New Zealand
Send a FREE Mel Gibson postcard
(with choice of photo) to anyone! Click Here.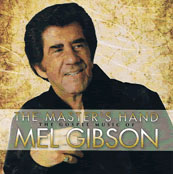 "THE MASTER'S HAND"
This is Mel's long awaited for gospel album of which he is so proud. Every aspect of this carefully chosen and crafted collection of inspirational songs is superb. The music will delight your ears and the words will lift your spirit. Mel uses his unique means to drive home the gospel message in each and every one of these songs. See
page for more!
"FROM MEL IN NASHVILLE - TRIED, TRUE & NEW"
This is truly Mel's landmark album...recorded in Nashville in the fall of 2013. It received immediate attention upon release in more than a dozen countries worldwide. This 12 song album includes 5 new songs written by Nashville songwriters: Terry Dennis, Marc Rossi and Paul Jarvis. There are some great cover tunes as well - recorded in Mel's own, very unique style. See
page for more about this album.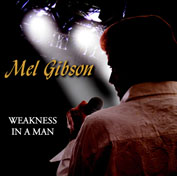 "WEAKNESS IN A MAN"
This was Mel's debut album, and was also recorded in Nashville, TN and produced by Mark Moseley. These 12 songs demonstrate his marvelous versatility, timing, phrasing, and undeniable romantic appeal.
A Note From Don Reed
"I've been in this business for over 40 years and occasionally someone crosses my path with a talent that surpasses the norm. Mel fits that category excessively so. The passion, the feeling, and the conviction that he puts into his interpretation of a song is a true expression of a real artist. He injects what I call 'attitude' into every song he sings. So get ready...sit back and let Mel entertain you." Don Reed - Affinity Music/Don Reed Productions, Inc.
"MY KIND OF CHRISTMAS"
Mel's Christmas album "My Kind Of Christmas" is titled perfectly for him. It was entirely recorded in Nashville and co-produced by him. All 12 songs express his unique arrangements and creativity. Mel received rave reviews on the international radio circuit, as well as hitting the European Charts between December 2013 and January 2014. You will definitely want to add this album to your Holiday collection.